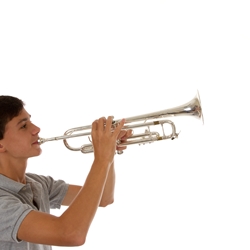 So, You're Looking for a Trumpet
What should I look for when buying a trumpet? How do I know which trumpet to buy for a beginner? Shopping for a new trumpet can be both exciting and overwhelming.
Whether you are searching for your first trumpet and don't know where to start or you are looking for the perfect step-up trumpet, this guide is for you. There are many features available on trumpets and this guide will walk you through those features and help you learn which ones are right for you.
What is a Reverse Leadpipe?

You may notice that some step-up trumpets have a reverse leadpipe while others do not. What is a reverse leadpipe? Should you buy a trumpet with or without one?
Reverse leadpipes are preferred by some trumpet players since this feature provides greater ease of response when playing. Try out a trumpet with a reverse leadpipe and one without one and compare to see which one plays best for you!
Where is the Reverse Leadpipe on a Trumpet?
Look at the leadpipe on a trumpet and see if the two ends of the leadpipe are directly above one another or if one is offset or behind the other. The offset leadpipe is a reverse leadpipe.
What are Trumpets Made out of?
Trumpets are brass instruments but the type of brass they are made out of can differ, as can the plating material. You may see trumpets labeled "rose gold brass," "yellow brass," "silver-plated," or "gold-plated." Each of these materials affects the sound of the trumpet and different players will prefer different materials. Try out different types of brass and plating!
What is the Bore Size?
When you look at a description of a trumpet, the bore size is often listed. Bore size is often categorized as "medium," "medium-large," or "large." Bore size refers to the width of the tubing on the trumpet. A larger bore creates a more open and free-blowing playing experience. As with other features, trying out trumpets with different bore sizes is the way to go.
What Style do you Play?
Your style of playing is an important factor in choosing a trumpet. Some professional trumpets are designed for jazz players, concert band players, orchestral players etc. So, be sure to research the models you are considering in order to decide which one is right for your playing style and goals.

All of the features in this guide can affect the sound and playing ability of a trumpet. The most important factor, however, is whether the trumpet you choose is easy and enjoyable to play. Take the time to try out many different trumpets and compare them to one another. Buying a trumpet is a process, so embrace the journey and focus on finding the trumpet that stands out to you among the rest.
Enjoyed this post? You may also like …
What flute should I buy? Whether you are looking to purchase your first flute or are hoping to step up to an intermediate or professional flute, you will find there are many different options available.
What is the brass family of instruments? The brass family encompasses a wide variety of sound, from the bright brassy tones of a trumpet to the more mellow sound of the French horn.