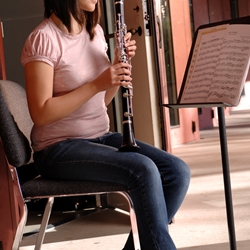 Woodwind Corks 101
What are woodwind corks? What is cork grease and how do you use i

t

?

Today, we're talking about
proper woodwind cork maintenance
!
If you play the clarinet, oboe or saxophone, corks called tenon corks connect the joints of your woodwind instrument. Proper maintenance of these corks will allow you to slide the joints of your instrument together with ease and prevent excessive trips to the repair shop.
What is cork grease?

Cork grease is a tube or container of grease that you apply to the corks of your woodwind instrument to soften the cork and make putting the pieces of the instrument together easier. Without cork grease, the corks of your instrument would quickly become dry and stiff, making it difficult to assemble the instrument. This can cause the instrument's joints to stick together, even leading to damaged corks.
How often should I use cork grease?
With cork grease, less is more! Cork grease is necessary for the maintenance of your instrument. Using too much cork grease, however, can cause just as many problems as not using enough. Too much grease left on your corks for too long leads the cork to become soft and begin to crumble or break away from the instrument.
Cork grease should be used only when it becomes difficult to slide the joints of your instrument together. New instruments will need to be greased more frequently than ones that have been played for a while.

How do I use cork grease?

Before playing, apply cork grease by gently rubbing a tube of grease on your corks or applying the grease with your finger. Try to apply as little grease as possible to the instrument's cork. Use just enough so that you can easily slide the instrument together. After playing, use a cloth to wipe the grease off the corks and return the instrument to its case.
How often should I replace my corks?
Every few years, it is important to check the corks on your instrument to see if they need to be replaced. Any cork that has become overly thin or soft or has started to crumble or break away from the instrument needs to be replaced at a repair shop. If you are unsure whether your instrument needs new corks, an instrument repair technician will be able to evaluate the instrument for you.

Whether you are new to playing your woodwind instrument or you have been playing for years, these tips are an important reminder to give some extra care and attention to the corks that work to keep your instrument playing properly!
Enjoyed this post? You may also like …
How do you Clean Your Instrument?
How do you clean your instrument? We may know that our instruments need periodic maintenance, but how often should you clean your instrument?
How do I Know if my Instrument Needs Repairs?
How do I know if my instrument needs to be fixed? How often should I get my instrument serviced? There may be underlying issues that are making it more difficult for you to play your instrument.